Having a smartphone is good. Playing on it is even better. The problem is, a lot of the games we like only exist on systems other than Android. There is still a solution: emulators. There are many game emulators, but not all are created equal. We explain how the emulation system works on Android, with the added bonus of a selection of the best emulators.
Are retro game ROMs legal?
This subject is delicate. Games are copyrighted and do not end for many years after release, meaning you cannot play a game without purchasing it in some way. In other words, if you download the ROM of a game that you did not make yourself, it is absolutely illegal. What you are allowed to do is create your own ROMs from the games that you physically own.
However, you can find many game ROMs on the Internet, especially retro games. Their copyright is unlikely to have expired, but manufacturers usually don't care too much about old emulated games and sometimes leave games around, especially older ones.
You can forget the legend that old titles are no longer protected, most titles that we find on the net for download are still private. To the best of my mind …
What are the best game emulators for Android?
Most Android emulators do their job, which is to allow a game to be launched from another platform. They are generally similar in their operation, however, what can change from one emulator to another are the controls and navigation to find its ROMs. Some provide additional features, such as multiplayer via wifi or Bluetooth.
Usually, an emulator simulates a single console. We advise you in all cases to get a small Bluetooth controller.
1. NES game emulators
Nes.emu
If you had an NES console when you were a child, this emulator will allow you to rediscover this universe. The NES has been one of Nintendo's most famous consoles, notably thanks to its most legendary game: Super Mario. This emulator is compatible with a lot of devices, but if you have any problems do not hesitate to contact the developer to tell them how to improve it or let them know about your problems.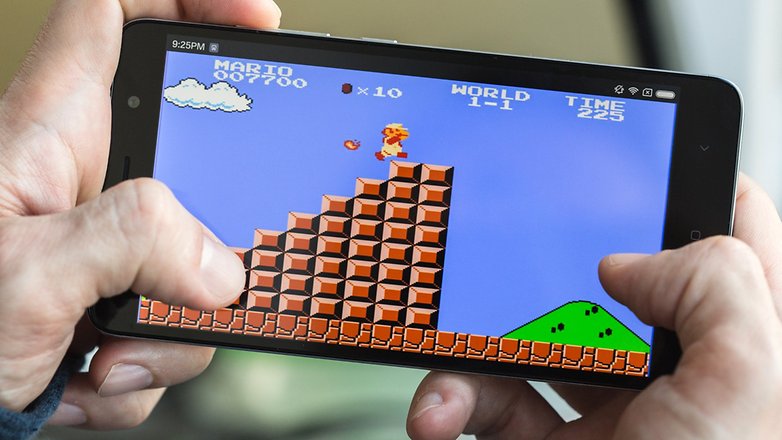 It is fluid and allows the automatic game to be saved. It also supports multitouch commands as well as bluetooth commands.
2. Atari game emulator
Hataroid
Hataroid does not emulate retro, but antique. This application works well, is stable, easy to use, and can emulate anything that was running – and still is running – on Atari ST, STE and Falcon computers. You need a BIOS (TOS for Atari) to run the ROMS.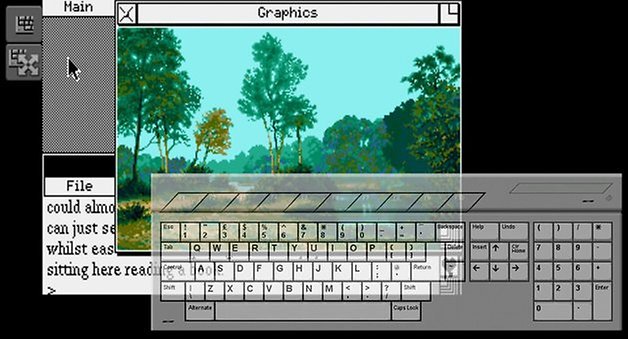 You can display a QWERTY keyboard and mouse when desired. A must for those who have been lucky enough to know the Atari. This is not my case but I still appreciate!
App version: 1.608
App size: 6.1 MB
App compatibility: Android 2.3 or higher
Economic model: free
3. Play Station game emulators
FPse for Android
Among all the Play Station emulators in the PlayStore, FPSE is considered the best of them. FPSE is chargeable, but it is also very good. We're interested in the best emulators on Android, after all. Let's come back to our heads, it runs games in HD and here again, its price seems ridiculous if we take into account the possibilities and the number of excellent games that it is possible to play.
The controls are impeccable, but to be frank, nothing beats a good little PlayStation-style Bluetooth controller. On a tablet, it's almost like on the console.
App version: 0.11.175
App size: 3.9 MB
App compatibility: Android 2.1 or higher
Economic model: 2.79 euros
PPSSPP
Here is a free alternative to FPse. The application is compatible with most games, however fluidity depends on the system. The configuration is therefore sufficiently extensive to limit the need for performance: graphics, audio, controls, networks and systems can be optimized according to your preferences.
You can also access various demos very easily.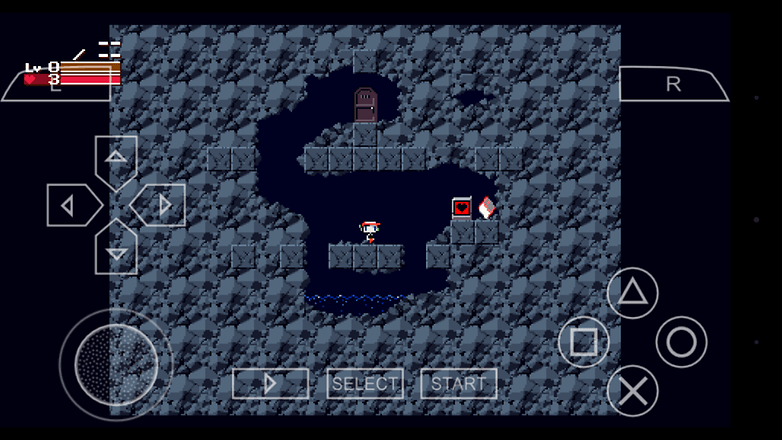 App version: 1.2.1.0
App size: 23.3 MB
App compatibility: Android 2.3 or higher
Economic model: completely free
4. Super Nintendo game emulators
Super Nintendo is another anthology of the Japanese company. This 16-bit ocnsole competed with Sega's Mega Drive at the time. You can play these games from Android using the SuperRetro 16 emulator: rediscover The Legend Of Zelda, Super Mario World, Super Mario Kart or even Donkey Kong Country.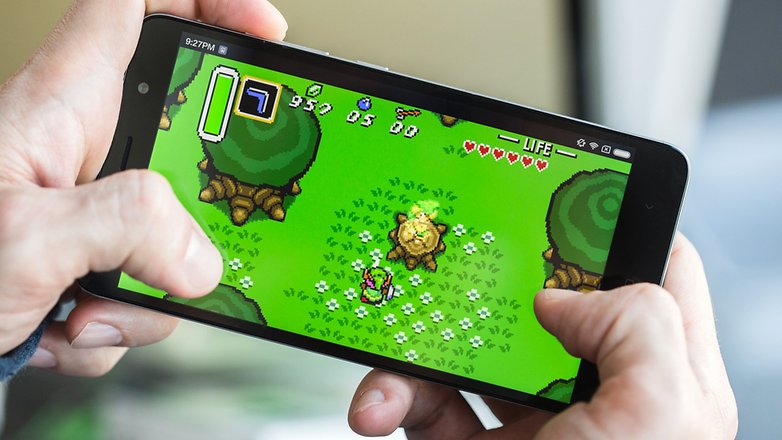 This emulator is compatible with controllers and supports multiplayer mode via WiFi or Bluetooth. The on-screen controls can also be changed to your liking. You will find the app on the Play Store.
5. Cross-platform emulator
RetroArch
RetroArch is an emulator of just about everything: Xbox 1 and 360, Nintendo (NES, SNES, Game Boy Color, etc.) Sega Master System, Saturn, Playstation, etc. It can also be used with controllers like the Sony Dualshock or the XBOX 1 and 360.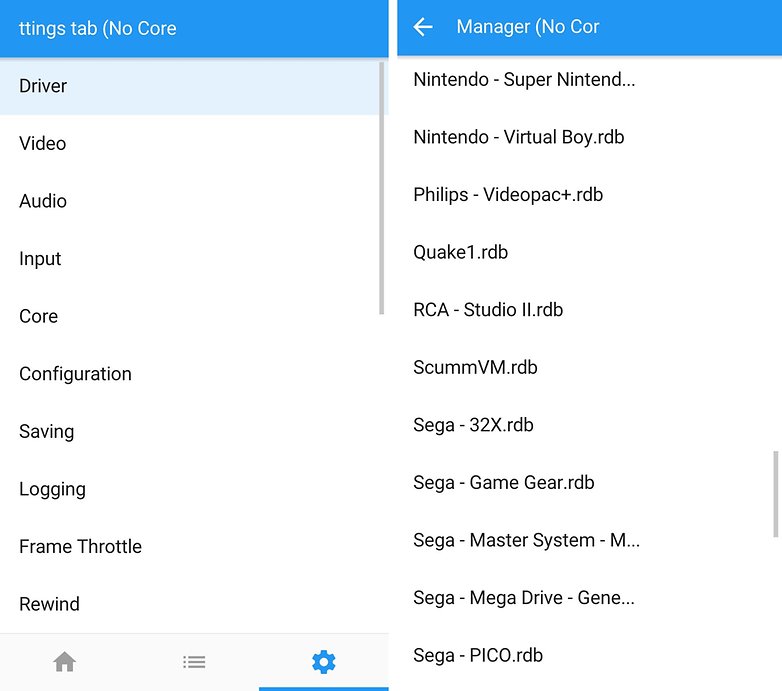 RetroArch is clearly one of the most complete emulators on Android. If you are a hacker, you will appreciate this application but if you are a gamer who wants to play quickly and simply, prefer the applications mentioned above.
App version: 1.3.0
App size: 33 MB
App compatibility: Android 2.3 or higher
Economic model: completely free
6. DOS game emulators
Magic Dosbox Free
For those like me who have been playing DOS before even playing Windows, the ability to emulate games like Prince Of Persia 1 or Risky Woods is simply amazing. Magic Dosbox Free allows you to simulate a DOS environment and play those good old 90s games.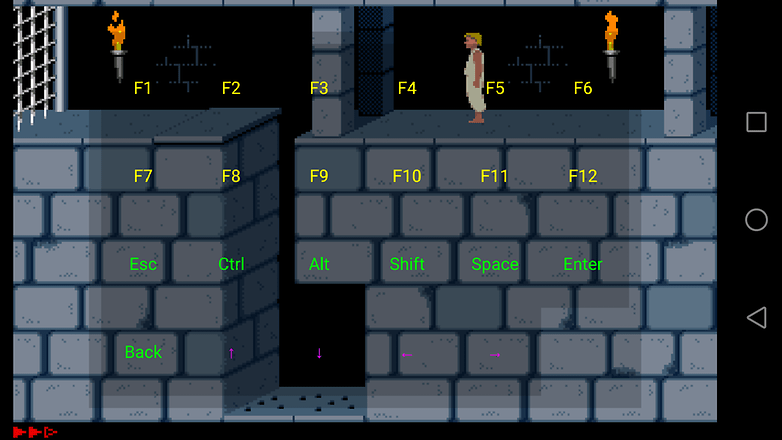 You can only play one game at a time with the free version, if you want the paid version you will have to pay the sum of 2.99 €.
Normally, the applications listed below are compatible with joysticks and gamepads. Unfortunately I did not have the opportunity to test them on controllers, do not hesitate to give us more information in the comments.
App version: 1.0.35
App size: 10.1 MB
App compatibility: Android 2.2 or higher
Economic model: completely free (the paid version costs € 2.99)
Of course, there are many other emulators available. For example, if you want to emulate old consoles such as the Game Boy, you can use My Boy! or other emulators available on the Play Store. Do not hesitate to read the reviews before downloading an app, it usually gives an idea of ​​the quality of the app and the reliability of the developers.
Are you using other emulators? Do you make your own ROMs?
Applications Community Games
Never miss a story with BestCrawl via Telegram 📲!